Regular price
Sale price
$5.70
Unit price
per
Sale
Sold out
Worldwide Shipping

Secure Checkout
3in1 Anti-rash Shaving Cream for Men With Sensitive Skin
Our unique 3in1 Tri-action anti-rash shaving cream formula is scientifically formulated for men with sensitive skin or skin that gets irritated from traditional shaving creams and gels. Excellent shaving cream for: face, bald head, acne-prone skin, body.
TriShave helps men with the following skin conditions: acne, razor bumps, shaving rash, ingrown hairs, rosacea, users of Accutane (Isotretinoin), heavy beard, curly beard, infected follicles, razor burn, pimples, or sensitive skin.
The 3in1 Difference of TriShave Shave Cream: 3 products in one
1. PRE-SHAVE: Cleanses skin and softens facial hair for a close comfortable shave
2. SOOTHING SHAVE: Skin friendly conditioners and skin lubricants form an extra protective layer to reduce friction during shaving, minimises ingrown hair. Contains Tea tree oil & Lavender oil. Helps prevent shaving rash.
3. MOISTURISER: Moisturisers rehydrate and protect freshly shaved skin. Leaves your skin feeling soft and looking healthy.
Recommended by Dermatologists
Dermatologically tested on people with sensitive skin. Results:no reported skin sensitivities, allergic reactions or skin irritations. Hypoallergenic. Recommended by dermatologists with a proven success record of helping prevent shaving rash and razor bumps.
3in1 Anti-rash Soap-free Shave Cream
Skin friendly PH
No animal fats
No soap, non-foaming
No sodium laurel sulfate
WITH soft conditioners + Australian Tea Tree essential oil known for it's anti-bacterial and anti-inflammatory qualities.
Benefits of TriShave 3in1 Anti-Rash Shaving Cream Men
Problem solver for men with sensitive skin or acne prone skin
Helps prevent shaving rash, ingrown hairs, acne
Softens even the toughest stubble, taking the pain out of shaving
Gentle formula is good for frequent shaving
Health conscious and anyone who wants healthy looking skin
Non-aerosol tube packaging is ideal for frequent travelers
Compact for your shaving kit and will not hold you up with airport security
Share
View full details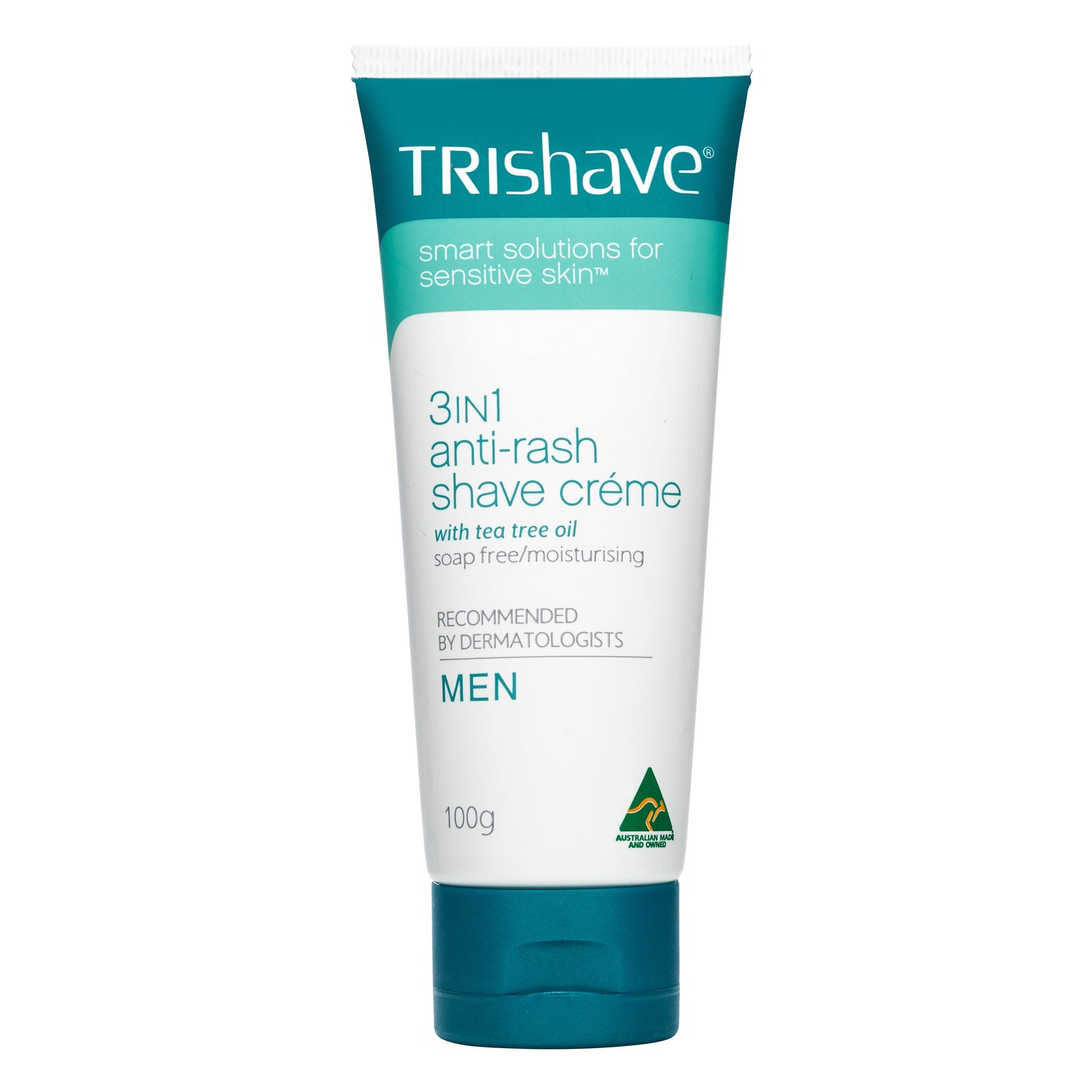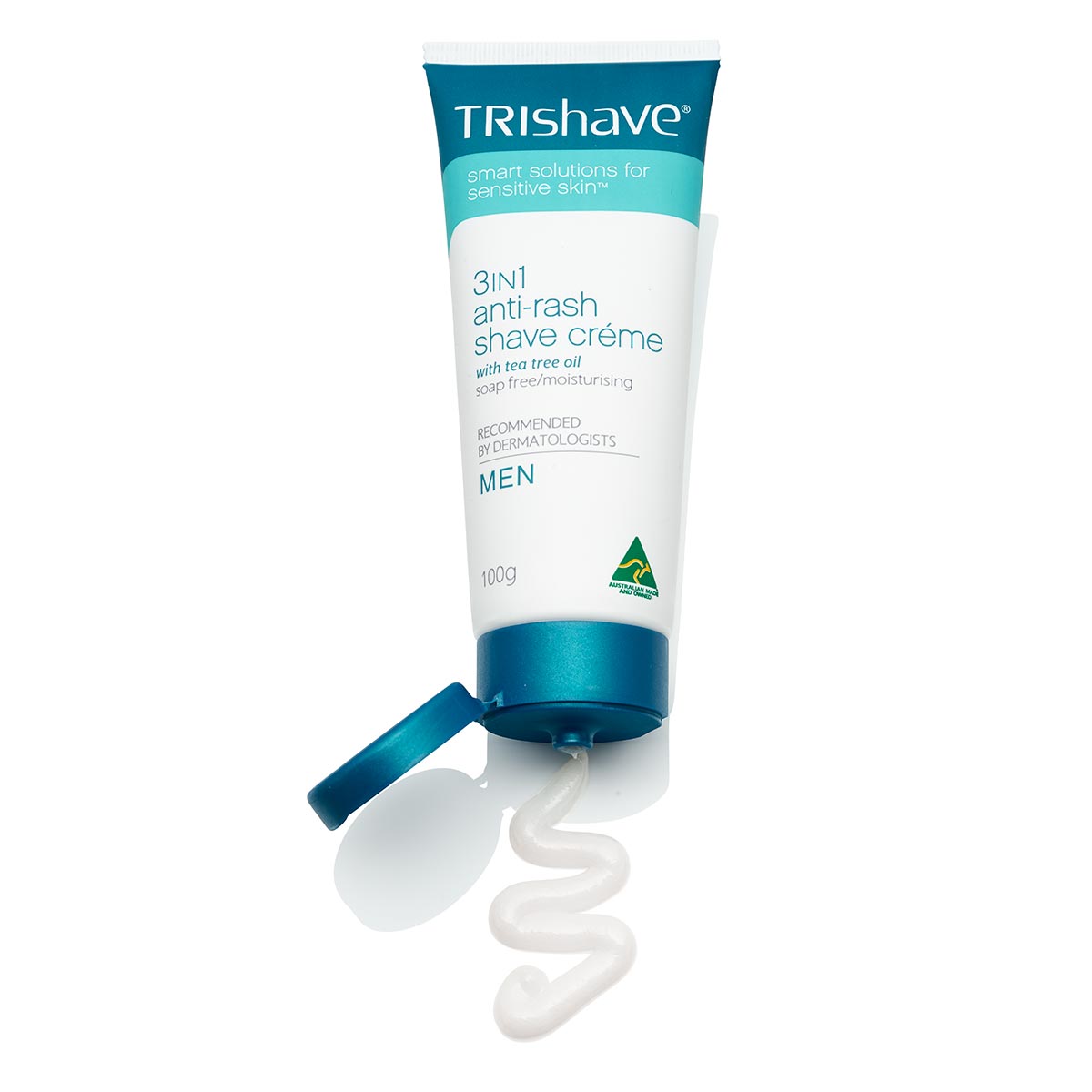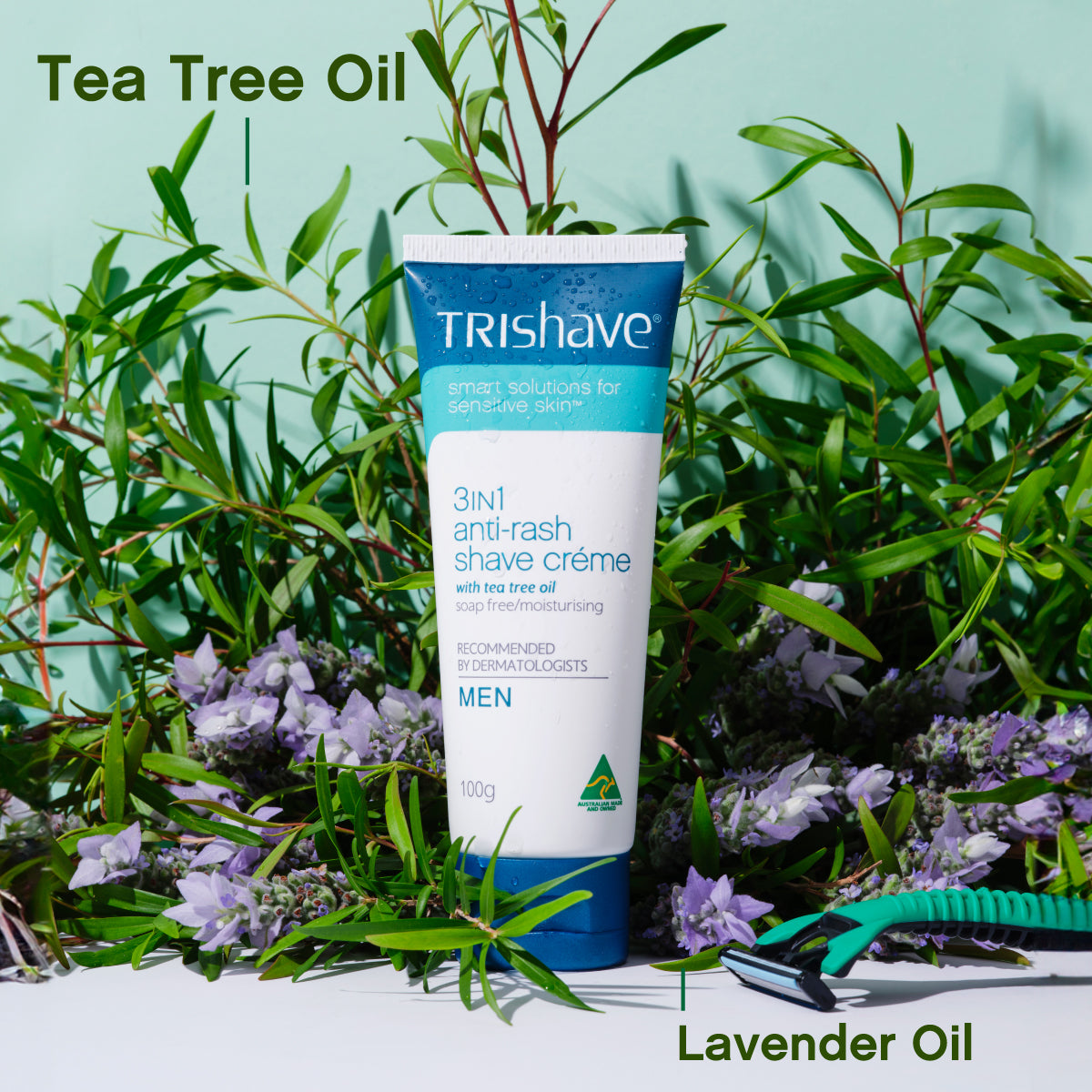 Lifesaver
I tried Trishave because I wanted a shaving cream for sensitive skin. I've used many different shaving gels/foams/creams and even stopped shaving completely just so I could avoid shaving rash and ingrown hairs. Thank you Trishave for such an amazing product
Shave creme
I have been using the shave creme for the past ten years, and now in the UK have to order it fro Australia because I can't contemplate using any of the others I have tried. This is simply the bes.