Regular price
Sale price
$11.73
Unit price
per
Sale
Sold out
Worldwide Shipping

Secure Checkout
TriShave's much loved Post Shave SPF30+ Moisturising Lotion has just got stronger: now SPF40 with even more UVA filters and stronger broad spectrum protection
Whether you are shaving or have a beard, you need to protect your face daily from the elements and help reduce risk of skin cancer.
Shaving removes the natural protective layer of the skin, exposing sensitive skin to sun, wind, and other skin-drying environments. TriShave 3in1 SPF40 Protective Moisturising Lotion adds moisture and protection to soothe just-shaved skin. Where traditional sunscreens and post shave products can clog pores and irritate freshly shaved skin, Trishave's non-greasy formula keeps your skin breathing while adding much needed moisture. It hydrates dry skin and does not irritate even the most sensitive skin.
The 3in1 Difference of TriShave SPF40 Protective Moisturising Lotion: you get three products in one
1. High protection sunscreen. May reduce the risk of some skin cancers. Can help prevent premature skin ageing, solar keratoses & sunspots.
2. Moisturiser: Light, non-greasy with Vitamin E, Evening Primrose Oil & Shea Butter softens, nourishes and hydrates your skin, preventing skin dryness and skin irritation.
3. Post Shave soothing lotion with Aloe Vera. Helps prevent shaving rash.
Dermatologically tested on a panel of people with sensitive skin: Not a single volunteer reported any skin irritation or sensitivity. This result shows our new formula is 100% effective, hypoallergenic and ideal for sensitive, dry or acne prone skin. This is also a healthy choice for normal skin.
As with all TriShave products: we do not test on animals
SPF tested in Australia to the strict standards of the Therapeutic Goods Administration
Protective Moisturiser for Sensitive Skin recommended for daily use. Perfect for use after shaving
SPF 40 high protection formula with strong UVA and UVB filters
Non-greasy
Fragrance free
Allergy tested
Skin friendly PH
with Vitamin E, Evening Primrose Oil, Shea Butter, Aloe Vera to hydrate the skin
Directions :
Apply generously to face, neck and head if hair is thinning. Recommended to apply every morning and at least 20 minutes before sun exposure.
Reapply every 2 hours and wear protective clothing, a hat and sunglasses when exposed to the sun. Avoid prolonged sun exposure.
Benefits :
Perfect for daily use after shaving and for outdoor sports, work or activities
Can help prevent premature skin ageing, solar keratoses, sunspots and helps reduce risk of some skin cancers.
Helps prevent sunburn
Contains antioxidants. Hydrates the skin
Non-aerosol tube packaging is ideal for frequent travellers
Compact for your shaving kit and will not hold you up with airport security
Made in Australia for the harsh Australian conditions.
Active Ingredients: Octyl Methoxycinnamate 5% w/w, Diethylamino Hydroxybenzoyl Hexyl Benzoate 5% w/w, Phenylbenzimidazole Sulfonic Acid 2.4% w/w, Titanium Dioxide 1.6% w/w. Preservatives - Phenoxyethanol
All TriShave products are manufactured at the Australian Therapeutic Goods Administration approved facility.
Each production batch undergoes strict testing of the highest standard to ensure you get the best, safest and most effective products for your safety and enjoyment.
Share
View full details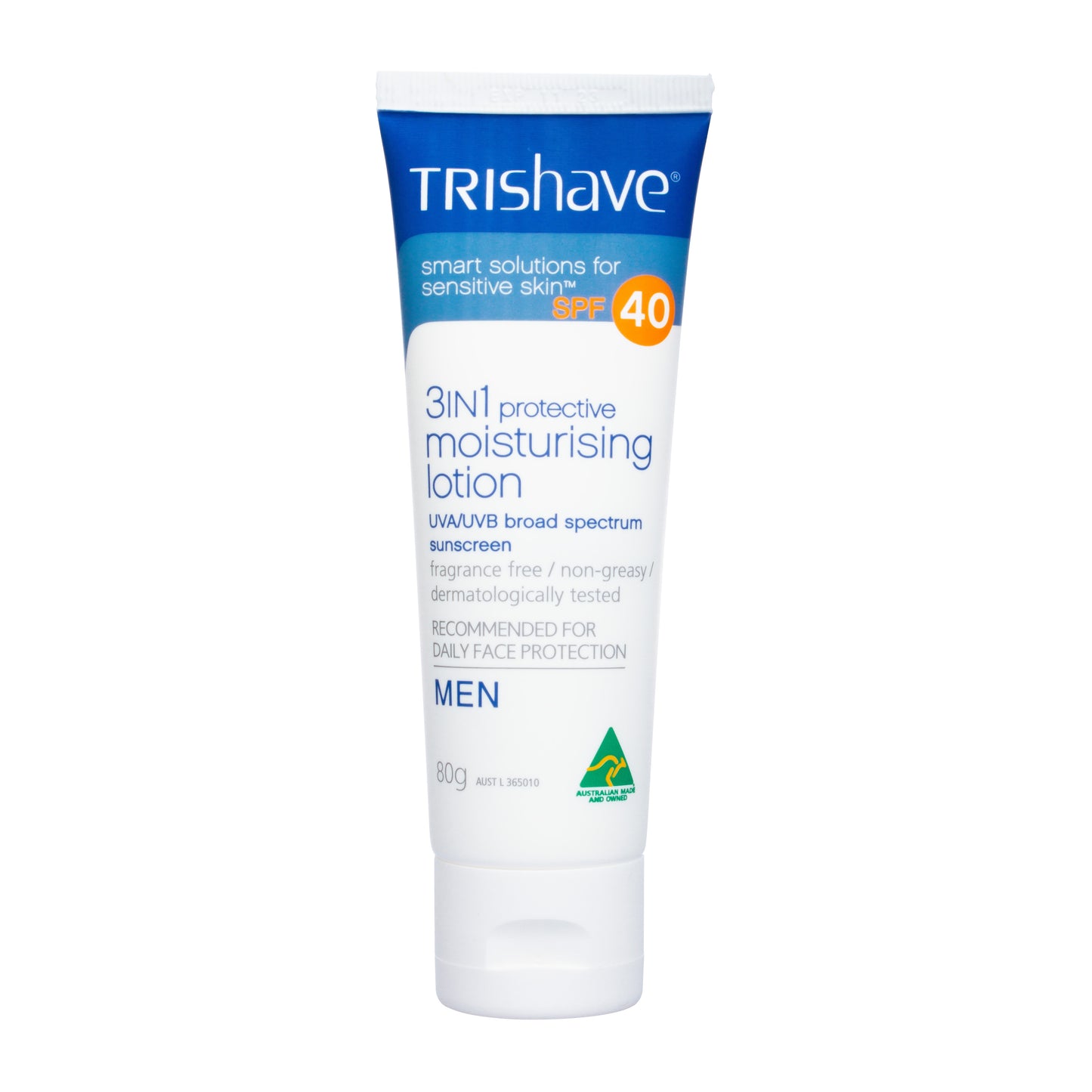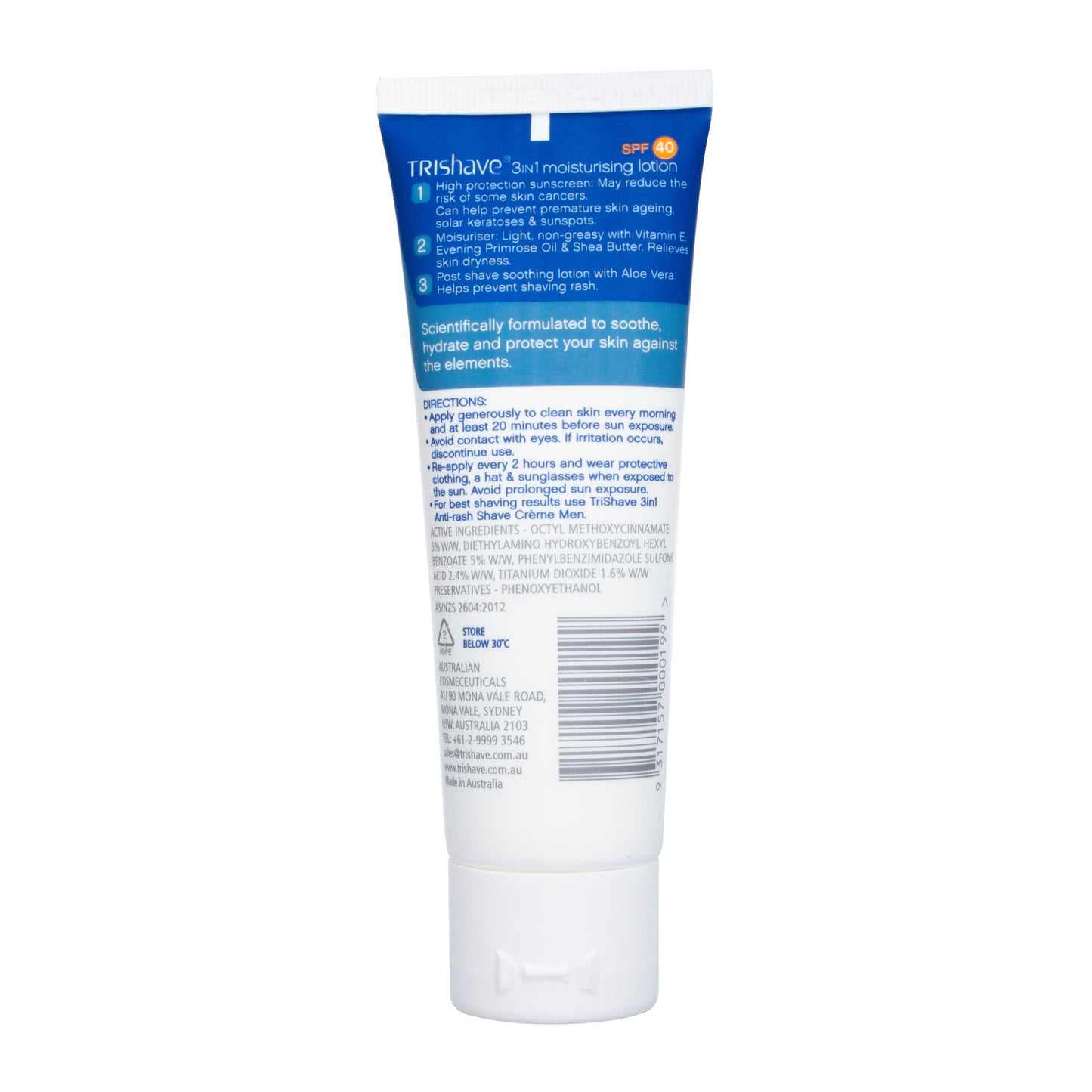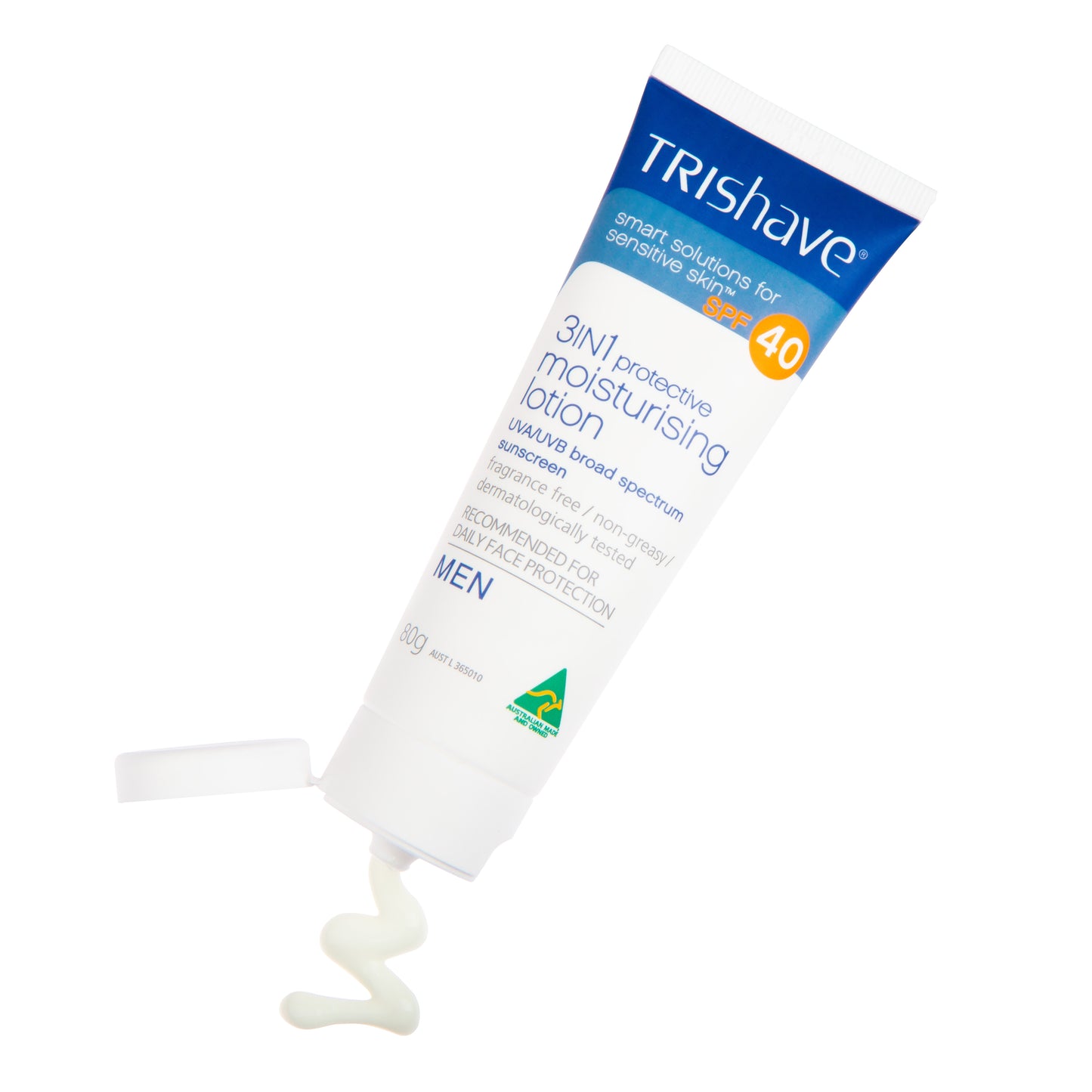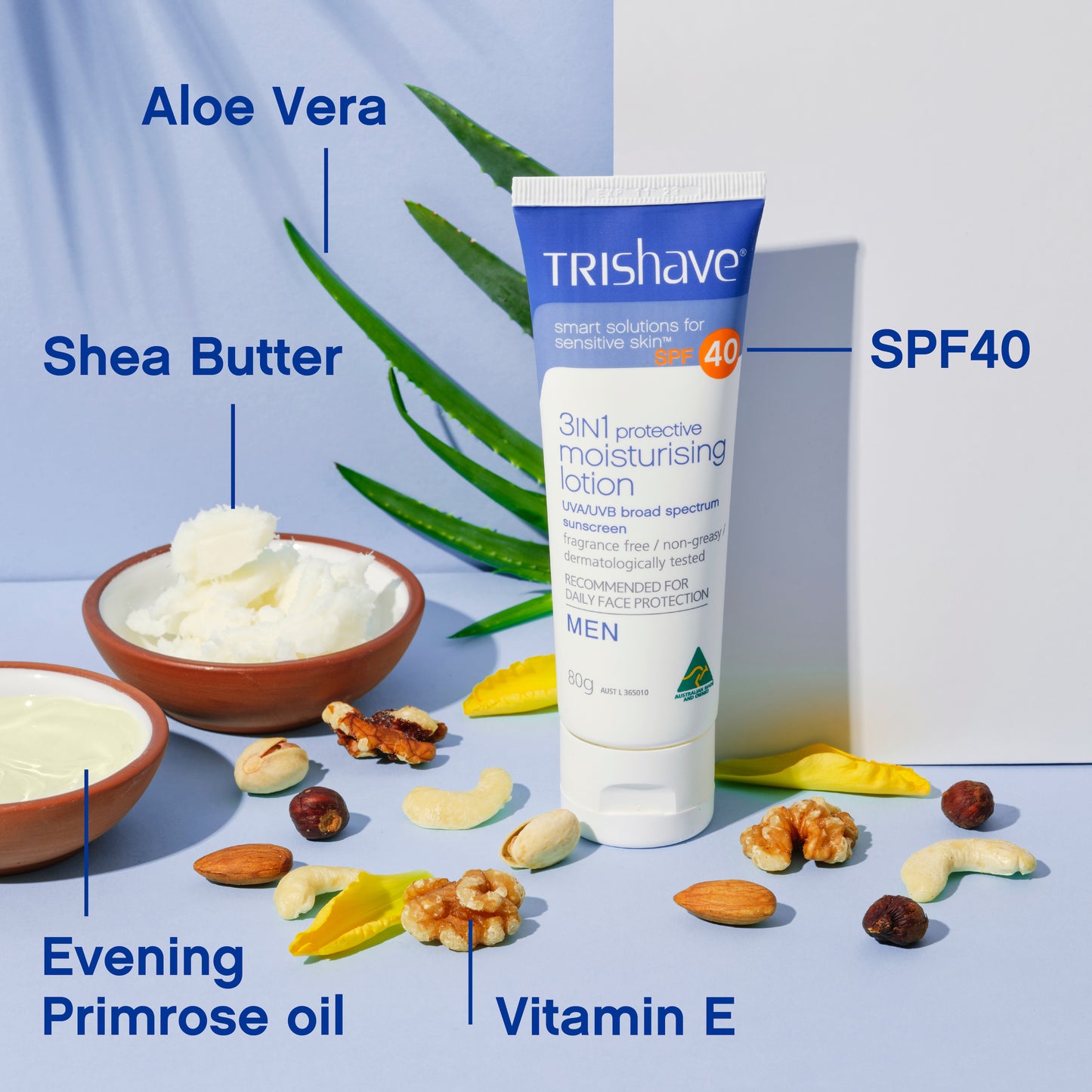 Trishave shave creme and Trishave post shave sunscreen with moisturizer
Wow!! so comfy after shaving and my skin is not sensitive to the sunscreen in the moisturizer, nor do my eyes sting if I perspire after applying it..........Definitely my fav facial products:) :) :)
Excellent product
Only problem is, its too expensive compared to the previous SPF 30 product
Tri Shave Protective Moisturising Lotion
I have been using this stuff for as long as I can remember - like 20 years. It's the best going around without a doubt. If you want healthy, smooth skin, this is the one.
Trshave 3-in1 Moisturiising Lotion SPF49
Our whole family (in north Qld) uses this as a sunscreen every day- nice to put on, nice to wear, doesn't smell, sunscreen works- it's the best! Pity it's not more widely available.
Trishave 3 in1 post shave moisturizer
Love this Australian made sunblock moisturizer. Does not irritate my eyes when I sweat!